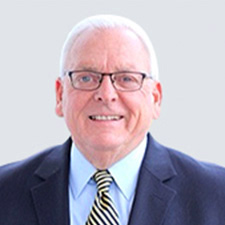 Paul is a career business executive with over 35 years of experience as a sales and marketing executive at large companies, including IBM and Motorola, as well as startup organizations. As the Vice President of Sales for Guardium, Inc., Paul spearheaded Guardium's growth from $3.7 million in revenue to $1 billion. Guardium was acquired by IBM in 2009 for $225 million, producing nearly a 10X multiple for investors. After Guardium's acquisition, he stayed on at IBM and served 9+ years as the business unit executive at IBM.
Prior to Guardium, he held sales executive roles at startups, including Courion (acquired by K1) where he led 70% year-over-year growth. Paul started his career at Motorola where he ended up managing a startup division that took specialized IT and communication products originally developed for government use, commercialized them, and then brought them to market.
Considered a thought leader in sales strategy and execution, Paul possesses deep go-to-market experience across many market segments including financial services, healthcare, and eCommerce.
Paul received his Bachelor of Science in Marketing and Finance from Bryant University.

Jaxon is an AI platform that trains other AI to more accurately understand natural language from raw text.
© Copyright 2020. All rights reserved.