Director of Capture Management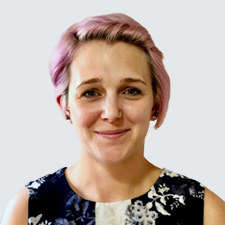 Charlotte is captivated by linguistics and the use of natural language in business. Having always been interested in languages, and having learned 5 of them throughout her life, she enjoys finding ways to combine linguistics and language in general with her role as the Director of Capture Management for Jaxon. Beyond the technical aspects of her career, Charlotte has a dedicated customer-centric focus on building relationships. Most recently, she has worked in several sales and management roles in the banking sector.
Charlotte has a keen ability to creatively assess the needs of complex processes. Her focus on people combined with a strong research and writing skillset and an enthusiasm for organization allow her to be an adaptable and capable asset for every organization she has been a part of. Prior to the commercial world, she was first in academia and then served as a Peace Corps Youth Development Volunteer in rural areas of Morocco.

Jaxon is an AI platform that trains other AI to more accurately understand natural language from raw text.
© Copyright 2020. All rights reserved.