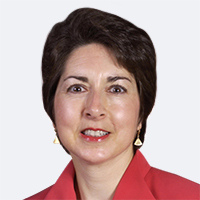 Carla is a senior executive and national security expert with extensive experience managing operations for the Department of Defense. In her work with the Army, Navy, Air Force, and Marine Corp, she provided expertise in strategic planning, financial management, supply chain and logistics, contracting and outsourcing, project management, and more.
Carla also served as the Interim CEO of Engineering Solutions and Products, a Senior Director at Alvarez & Marsal, and the Chief of Staff to the CEO at the MITRE Corporation. She is an exceptional leader with keen decision-making skills, as well as an intelligent risk taker who knows how to drive innovation and efficiency.
Carla received her Bachelor of Arts degree in Economics from Binghamton University in New York, a Master of Science degree in Industrial and Systems Engineering from the Russ College of Engineering & Technology at Ohio University, and a second Maser of Science degree in National Security Strategy from the National War College at Ft. McNair in Washington, DC.

Jaxon is an AI platform that trains other AI to more accurately understand natural language from raw text.
© Copyright 2020. All rights reserved.