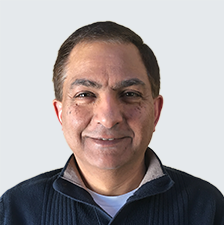 As the leader of the Engineering team for Jaxon, Sushil has prodigious experience in building highly-scalable, highly-available distributed communication systems and real-time applications.
Prior to Jaxon, Sushil served as Principal Software Architect for BigR.io, where he led an immensely successful development team in designing and implementing a large-scale medical image exchange that securely turns over 10s of terabytes of data weekly across organizational boundaries and disparate systems. Sushil also helped found a successful startup that innovated and supplied high-capacity switching gear deployed in the AT&T Core Network. He participated in standard-setting bodies including ATM-Forum and IETF where he made several contributions. He holds a patent in high-speed switching.
Sushil has been central to standards compliance for Integrating the Healthcare Enterprise (IHE) initiatives, including HL7 and XDS/DICOM adherence. He was a key figure in executing a large-scale data ingest pipeline and NoSQL store for eBay Enterprise (120B+ transactions/year, 5M transactions/minute at peak).
Sushil earned his Bachelor of Science in Electrical & Electronics with Specialization in Digital Electronics from the London South Bank University. Sushil also studied Data Structures & Algorithms at WPI and is an expert in architecture/design, Java/C++, Eiffel, Linux, routing & internet protocols, highly-available systems, and NoSQL databases.

Jaxon is an AI platform that trains other AI to more accurately understand natural language from raw text.
© Copyright 2020. All rights reserved.