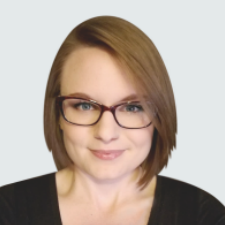 Carly is an avid researcher and leader with copious experience developing marketing strategies to help achieve business goals. She specializes in developing and implementing strategies to strengthen company market presence and developing company identity initiatives. Prior to starting with Jaxon, Carly served as Director of Marketing on the leadership team for BigR.io, overseeing Marketing Engagement to drive productivity and collaboratively provide strategic thought leadership and marketing direction across all business functions.
In the past, Carly served as Marketing Coordinator for various startups and other large-scale companies, where she developed a proven and successful track record in scaling growth using modern B2B and B2C marketing strategies and tactics, including digital marketing, direct marketing, and event coordination. In addition to her strong planning, analytics, communications, and writing skills, she is also an adept strategic, creative, and results-focused critical thinker.
Carly earned her Master of Arts and Bachelor of Arts degrees in English with a focus in Rhetoric and Composition from Kansas State University and holds a Professional and Technical Writing Certificate.

Jaxon is an AI platform that trains other AI to more accurately understand natural language from raw text.
© Copyright 2020. All rights reserved.